Community Education
Upcoming Classes
No Events
                   

General Interest/Crafts
Virginia School Forest- Walking Tour
Thurs., May 6                 5:00-7:00pm       School Forest                    $5
Have you heard your child or grandchild talk about going to the school Forest?  Join former 5th grade teacher Chris Holmes to explore portions of the Virginia Forest trail system and visit the various learning stations located on the 120acre property.  Learn about the Minnesota School Forest program and see how Virginia Teachers use it to provide outdoor education activities for their students.  Meet and leave park and ride lot on highway 53/169 interchange at 5:00pm, then drive to the forest.  Return to lot at 7:00pm.  Dress for a 1mile hike, rain or shine.
Welcome Sign
Wed. May 12             5:00-7:00pm        Art Expressions            $38
Join Marion at Art Expressions- (831 14th St. N. Virginia).  18" wood circle, variety of paints, ribbon & greenery available.  You will have a variety of stencils & vinyl lettering to choose from.  Comes with wall mount and/or door hanger. Go to Art Expressions Facebook page to register and more info.  Class will be put up a few weeks before class.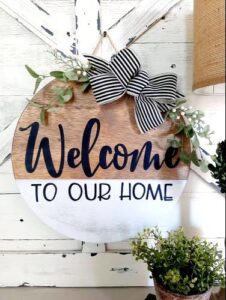 Defensive Driving Class -Virginia Campus
Call Julie @ 742-3990 for Scheduled Classes
You must be 55 or older to participate.  Due to Covid-19 the class is being held in the Virginia High School Resource Center. The size of the classes will be limited.  All courses will require social distancing and face mask.  Enter Door # 3 Call Julie at the Virginia Community Education office at 742-3990 to register
Trooper Peter Goman, Instructor. 
                   

Fitness
Taekwondo Class   Eveleth-Franklin Activity Room
Tues & Thurs.,        Begins September 15 –May 27th
4:30-5:30 pm- Beginners
5:30-6:30 pm- non-Beginner You must be at least 7 years old to participate.  Masks are mandatory, bring your own water bottle.  Cost is $40 a month.
To register and for more info:  Contact Lynne Stuckey at 218-410-0167
Class will be held in Room 200 Activity Room Franklin Elementary Eveleth.
Enter Door # 9                  
                       

Cooking
 Zoom- Instant Pot Cook- Along Classes
Have fun participating in these virtual Instant-pot classes! You can choose from any of the many classes listed below that you would like to participate in.  You will need to have access to Zoom. You will receive instructions on how to access the class prior to it starting.  Two dishes will be made during each class in addition to a side.  Choose one for your cook-along and watch a demonstration of the other or if you have a second Instant Pot on hand and want to make both please do!
Instructor Tess Georgakopoulos has been a cook and community education instructor for over 40 years and has been teaching both in-person and on-line for a number of years, having worked with numerous public-school districts in and around the Twin Cities.
All cook-along classes will be 2 hours long to allow time for prep, cook along, questions and troubleshooting if needed.  Ingredient list will be provided 7-10 days in advance.  Participants may already have a lot of the ingredients on hand.  Make this a family affair. Children love to get involved!
For more info- go to our website or call Julie @ 742-3990 or JoJo @ 744-7712 
Instant Pot Cook-Along: BBQ The Whole Year Through
May 20                             5:00-7:00pm                                                    $26
Two dishes will be made during this class.  BBQ pulled chicken and Carnitas.  In addition, a potato salad side will be created.
Instant Pot Cook-Along:  Sliders, Rolls & Twice Baked Potatoes
June 16                            5:00-7:00pm                                                    $26
On the menu for this complete homemade meal are BBQ Pulled Chicken, Quick Homemade Potato Rolls (baked in the oven) and a side of Twice-Baked Potatoes.  Also, you will make a delicious quick slaw
For additional information about Community Education, please contact JoJo Scott at 744-7712 or Julie Eddy at 742-3990.
Rock Ridge Community Education
Virginia/Eveleth-Gilbert
Independent School District #2909
"Future Ready/Community Strong"